Delivery services for food, meal kit boxes and groceries are booming, not least because of the pandemic. In the US, the food and beverage retail e-commerce revenue is expected to exceed $20 billion in 2021 and might surpass the 24 billion by 2023. The online grocery customer base counts roughly 150 million shoppers and is forecast to grow further in coming years. So how can the growing number of parcels be handled? How does an efficient distribution network for fresh and frozen food products look like?
Fresh products are often shipped via conventional parcel services – using well-insulated packaging and dry ice boxes to keep the groceries cooled during transport. This not only results in a lot of waste and high packaging costs, but also can't always guarantee that the food will actually arrive fresh at its destination.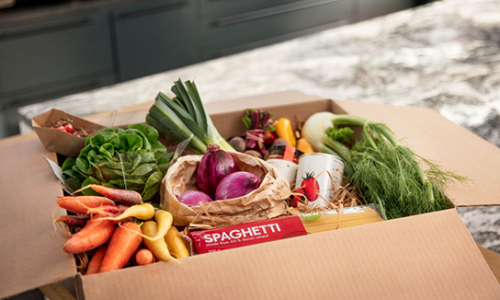 DPD Fresh  – a Belgium-based transport service for dry, fresh, and frozen food products launched by parcel service provider DPD in 2020 – takes a different approach. The company uses refrigerated lorries with active cooling and sensors for temperature monitoring. This means that a conventional cardboard box is all what is needed to pack the food products.
Private and business customers quickly took up the DPD Fresh offer: Within a year, volumes rose from 0 to almost 300 shipments a day. The distribution network has since been expanded to include Luxembourg and France, and the fleet now comprises of 14 vehicles.
Food deliveries – A challenge in transport planning
Transport planning for fresh and frozen food products is much more complex than ordinary package deliveries. Factors such as the shelf life or the required temperature conditions differ from product to product and must be considered.
For example, the shelf life determines which deliveries are possible at all. Within Belgium, all shipments are usually delivered within 24 hours. For France, a lead time of 48 hours must be given, or even 72 hours for southern France.
Delivery of oysters is a good example. They must be delivered within 48 hours of harvest at the latest. This means that DPD Fresh can deliver oysters from the south of France to restaurants in Paris, but not to restaurants in Antwerp or Brussels, because they cannot guarantee delivery within 48 hours.
Another challenge is the different types of vehicles. Since DPD Fresh delivers less frozen than refrigerated parcels, only two-thirds of the vehicles have both refrigeration and freezer facilities. In addition, those vehicles consume more fuel, which must also be considered in the route planning.
Finally, it is important to avoid having two vehicles stop at the same address – one with a refrigerated package, the other with a frozen one. Not to mention the rapidly growing network of depots: DPD Fresh expects further growth to a total of 100,000 shipments per year in 2022. All ten DPD depots in Belgium are to be equipped for food delivery. Thus, route planning also needs to consider from which depot to supply which region.
Strategic route planning for efficient food deliveries
At DPD Fresh, the conventional planning tool was not sufficient to manage the delivery of food products. Mainly because it was not possible to differentiate between different vehicle types.
In addition, minimum shelf life is usually not a factor for normal packages. This meant that DPD-planners often had to intervene manually. That's why DPD Fresh opted for an additional software solution for strategic route planning, the PTV Route Optimiser.
The software combines incoming shipments into the most efficient routes, taking into account restrictions and preferences such as shelf life, loading capacity for refrigerated and frozen packages, and fuel consumption.
Adopting the software gave DPD Fresh huge benefits. By maximizing the vehicle utilization, the company can get by with two fewer vehicles on some days. Calculations have shown that operating costs can be reduced by up to 15%. Thus, the cost of purchasing and implementing an additional scheduling system will be quickly amortized. Another important and positive effect: DPD Fresh succeeds in improving its ecological footprint with the optimized planning.