We are used to the fact that in our globalized world, just about anything can be delivered from anywhere. According to Statista, the global trade value of goods exported throughout the world amounted to approximately $19 trillion in 2019. In comparison, this figure stood at around 6.45 trillion U.S. dollars in 2000. In 2021, the World Trade Organization expects  the volume of world merchandise trade is to increase by 8.0% after having fallen 5.3% in 2020 due to the COVID Pandemic. Getting all these goods from A to B requires highly efficient and flexible logistics processes.
Flexible control of logistics processes
The fact that deliveries are becoming more small-pieced is undisputed. During the pandemic, it became evident, that development in the sector remains unpredictable and requires increasing flexibility from logistics companies. Even without the coronavirus situation, the demand for logistics process improvement today is greater than ever: In times of digitalization, optimized logistics processes are not a "nice-to-have", they are a "must-have".
DB Schenker: Not just optimization of logistics processes
As leading international logistics service provider, DB Schenker, a e fully owned subsidiary of Deutsche Bahn AG, supports trade and industry in the global exchange of goods – through overland transportation, global air and sea freight, contract logistics and supply chain management. In European overland transportation alone, more than 108 million consignments were managed in 2020. The company is a pioneer when it comes to logistics whose processes are expected to fulfill the latest requirements.
In order to both enhance and expand the running systems and logistics processes at the same time, Schenker decided on the integration of logistical functions.
High-performance logistics processes via API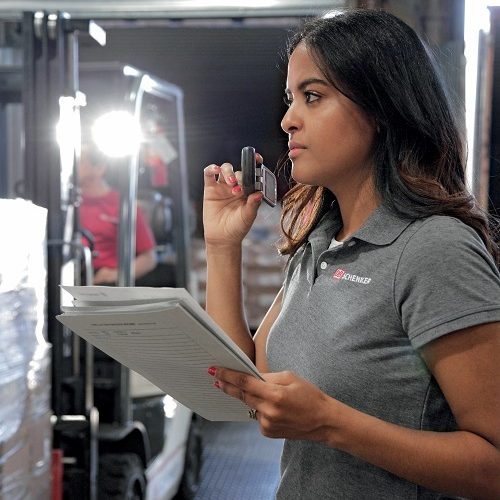 Since the start of the large-scale project, PTV Group's Developer Components have been deployed: These can be quickly and easily integrated in a wide variety of systems using standard interfaces, so-called APIs. The high-performance software components can be used for a broad spectrum of applications in logistics, transportation and field work. The advantage of simple integration: The logistics processes can continue running as usual.
Global effects with the cloud approach
The central cloud approach at Schenker AG also creates global effects: For example, in cost calculations or invoicing of service providers. The result: an attractive positioning in the market and close ties to the customers. In addition, this new strategy allows the global logistics service provider to open up new customer groups, to exchange expertise and ultimately, ensure economic growth and profitability.
"The development of reusable and easily integrable digital components is an integral part of our IT strategy," says Jan Rick, Senior Vice President Global IT-Governance (L.LCG) at Schenker AG. "In cooperation with the PTV Group, we were able to add a key component to our catalog. We are looking forward to how things will develop further and the teamwork with PTV – now and in the future."