When choosing a route planning software, companies mostly focus on costs and functions, thus what the software can do for them. They often underestimate a third factor: the supplier behind the software. We regularly see implementation projects that fail because the company and the software provider are not a good match. That's why I offer five tips that will help you choose the right tool –  whether it's by PTV Group or not.
Selecting a route planning software normally means a long-term cooperation with the supplier, as it does not stop when the system is first put in place. As a software supplier, we at PTV Group are ready for support and maintenance at any given day. In addition, changes in the market, in technology or in business operations require frequent adjustments.
I know from my own experience that such a long-term partnership is only successful if there is a good match between the company and the software supplier. So what are the factors that determine such a good match?
Upgrade your logistics operations
Find out how Saas route optimization can support your business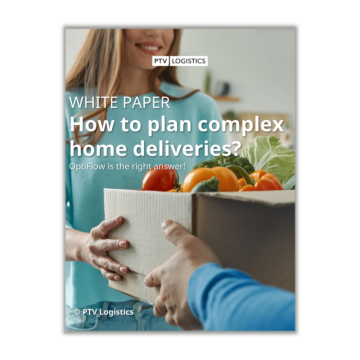 1. Industry experience
Companies in a wide range of industries face route planning issues: from carriers and craftsmen to home care organizations. Each sector has different needs. For logistics companies, the number of stops is important, while craft businesses focus much more on competencies of every employee. And for service technicians called for an emergency repair, response time is especially crucial.
When choosing a software supplier, pay attention to its experience in your specific sector. Does the supplier have multiple customers from your sector? Then chances are high that the company understands your challenges and can offer a route planning software tailored to your planning needs. This helps avoid misunderstandings during the implementation process, and results in a software solution that provides an added value.
2. Good chemistry
A collaboration runs best when there is good chemistry with the counterpart: The communication is much simpler, people go the extra mile and are more forgiving. Moreover, collaboration is more fun when the two parties have a good working relationship.
So take a good look at the people you will be dealing with – not only during the selection phase, but also during the implementation and the subsequent phase. Does the company culture match? Do you share the same values? It also helps a lot if the supplier not only offers support by the technical team, but also has employees with knowledge and experience about your industry. They understand your concerns and can "translate" them into concrete solutions.
"PTV was on site to get everything working. Because problems were solved immediately, we saved a lot of time. And we had no time to waste. The sooner we could start using the route planning software, the better." – Ben van Oosterhout, Director, CTG Logistics
"The turnaround came when a PTV planning specialist sat down with the planners. He showed how many miles and hours the company could have saved by using the automatic planning function" – Ben van Oosterhout, Director, CTG Logistics
3. Reference
Do you have doubts about whether a supplier matches your own business? Then look for experiences of other customers. Ask the company for references or look for their success stories yourself, for example in the trade press. It is best to look for references in the same industry.  Do not hesitate to pick up the phone: Then you will not only hear the story of the manager, but also of the planners.
"A lot of our potential was left untapped. That's why we started working with PTV to get more out of the software." Robin Smaling, Manager Operations & Sales, TSN Groen
"Even after the software is up and running, PTV continues to contribute ideas on how to improve the planning. If we are not making optimal use of the software, they are honest about it"
Yorden Greuter, Distribution Manager, Van Straalen De Vries
4. Continuity of the supplier
As I said, by choosing a software supplier you are committing yourself for several years. It's doesn't stop with the implementation. The supplier must provide support during the entire life cycle of the route planning software.
And don't forget to look at the total cost of ownership. A route planning software with low purchase and implementation costs can turn out to be expensive if the service and support are inadequate.
I regularly speak to companies which are forced to buy a new software because the previous one is no longer supported. So choose a tool that not only meets your needs now, but also in five or ten years' time. Is the software provider investing in further development of it? What does the innovation roadmap look like? Also pay attention to the ownership and financial stability of the company. Is the commitment and capital in place to continue investing in the software in the future?
5. The power of algorithms
At the base of a good route planning software are smart algorithms. They determine how efficient and effective your planning is. Moreover: a planning software with a good set of algorithms prevents your planners from spending precious time on optimizing the plan proposal.
If you take these five factors into account in your selection process, you will not only get a suitable route planning software, but also a suitable software provider. The knowledge, experience and service of the party behind the software is as important as the system itself.
FAQs about route planning software
What is a route planning software?
A route planning software is a system that automatically distributes orders among available people and resources. Read more.
What are the costs of a route planning software?
It is one of the first questions we are asked. Rightly so, but it is not always possible to give a standard price. The price depends on various factors. In this blog post we explain how this amount can be determined.
What do I need before buying route optimization software?
What is the difference between a route planner and route optimisation?
Within the transport planning industry, these two terms are often mixed up: Route planning & route optimization. What do these two mean? We explain.