Crises such as the pandemic or the war in Ukraine and supply bottlenecks have brought the problems in logistics into the public focus. How is the industry dealing with growing challenges? Does it also see potential opportunities?  What are future strategies? The Logistics Trend Report 2022 aims to find out the concerns, opportunities, and changes – as seen by those who drive the logistics industry forward.
For the current study, PTV Group surveyed more than 500 executives and stakeholders from logistics service providers, retail and manufacturing.
Challenges of the logistics industry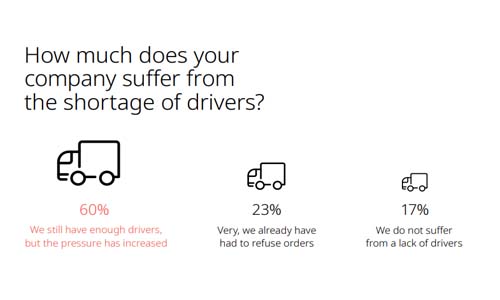 The logistics industry is full of worries these days – from finding the right personnel, through supply chain bottlenecks, to rising fuel prices. We asked the participants to rate how big each of these challenges are to their work.
Over 60% say cost pressures and shortage of drivers (63%) are their biggest concerns. 23% of participants already had to refuse orders for this reason. 28% stated  that drivers in their company spend an average four or more hours a week waiting. This leads to a loss of revenue and at the same time puts a strain on the drivers.
Digitalization continues to be a challenge for many logistics companies too. Almost 4 out of 5 respondents view digitization as a big or medium challenge. A huge majority is  still working on fully embracing digitization; Only 12% completed the process.
Future trends in logistics
The need for further digitization is seen as a reflection of the growth in eCommerce. Almost all those who answered the survey (90%) believe that eCommerce will continue to grow following the Corona pandemic. A majority believe that customer experience can be improved with more punctual delivery times.
Climate change is another hot topic in logistics, in the sense of emissions reduction. But only about a quarter of respondents said that their companies are highly active on this topic. More than 40% took some measures, but not enough.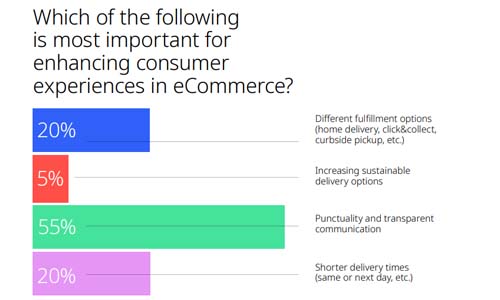 Technology
More than three quarters of participants believe that software technology can tackle the main challenges they face. No wonder, that 90% of respondents already use some form of routing software, and over half of them invested in a dedicated route optimization tool.
Matthias Hormuth, VP Product Management Logistics at PTV Group explains: "Many logistics companies realize that a route planning software needs to cover more than just route optimization. They want it to increase customer satisfaction – by supplying reliable service time windowsand real-time ETA updates. They also expect software to highlight transport emissions, as more transparency is requested. Finally, a route planning software can help them retain and keep drivers happy, as it follows working and drive & rest times regulations."