It is not only consumers who are increasingly demanding greater environmental awareness when ordering goods. More and more companies are also expecting their logistics service providers to provide proof of the emissions released during transport. From 2023, all large transport companies in the EU will be obliged to prepare a Corporate Sustainability Reporting (CSRD). Emissions analysis are the pillar of such sustainability reports. So, how are CO2 emissions logistics calculated?
Transparency and reliable figures are the basis of any sustainability strategy. Only if companies know the CO2 footprint of their processes, they can make informed decisions, take measures, and create transparency. In addition, with such a balance sheet you can already estimate what additional costs you would incur because of a CO2 tax.
How to calculate CO2 emissions of trucks?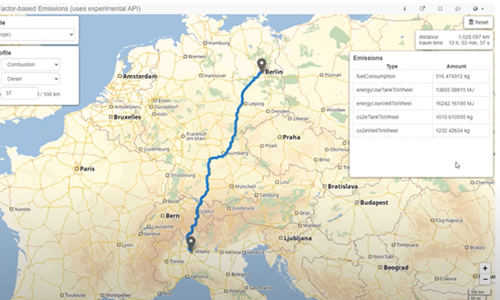 Already in 2009, PTV Group launched the first professional route planner with qualified emissions calculation. Tools, such as the truck route planner PTV Map & Guide or location service APIs PTV Developer, calculate the expected emissions of CO2, air pollutants and greenhouse gases for each trip.
The calculation is based on common standards for the calculation and declaration of energy consumption and greenhouse gas emissions in transport services, such as DIN EN 16258 and  ISO 14083. Another method is based on the Handbook Emission Factors for Road Transport HBEFA 4.
The algorithms take numerous parameters into account when calculating CO2: For example, different vehicle classes and truck attributes. After all, different trucks and vans differ not only in dimension and weight, but also in their drive technology, fuel type and consumption.
In addition, criteria such as the actual mileage, the load or elevation profile of a route, are also included in the CO2 calculation.
This way, the various emissions of a planned route, from carbon monoxide to methane, can be evaluated in a detailed report even before the journey begins. In addition, the various greenhouse gases can be converted into CO2 equivalents to standardize their impact on the climate.
The graphic on the right shows which measures help to reduce CO2 emissions in logistics. You can also go to the PTV Blog to learn more about sustainable logistics solutions and how they help to reduce emissions.